KIDS Programs organised by SCCL
Art at the Hall
Learn to Draw and Paint
Wednesdays, January 17 to March 14
(No class Feb 28)
4:00-5:15 pm
For ages 6 – 13 years
Cost: $160 includes all instruction, art materials and a sketchbook.
Requirement: Community League membership required (any league).
Register: For more info and to register, contact Berna at berna@telus.net
Description:
Join Berna Ponich B.Ed (27 years teaching experience, KEE Artist in Residence from 2013 – present) for eight weeks of drawing and painting with a focus on skill development and creative exploration.  Introductory/practice projects will be used as teaching tools in both disciplines, followed by a completed drawing and painting.
In order to accommodate families who would like to join, but are unable to make the 4:00pm start time, the doors will be open at 4:00 pm for drawing warm-up time and snack time with instruction beginning promptly at 4:15 pm.
 
---
YOGA – Kids' – Early Dismissal on Thursday Afternoons (ages 5 – 9)
Winter session (6 classes)
January 18 to February 22
3:00 to 4:00 pm
Spring session (6 classes)
March 8 to April 19
No class on March 29
Cost: $72 (or $60 for Community League members) for 6 week session
Register: To register contact: info@yogikids.ca or call Chandra McGlone at 780-700-7971.
Description:
This is the perfect activity for early dismissal Thursdays! Kids' yoga is a magical adventure that helps children develop important skills in a loving environment.  It nurtures creativity, mental focus, body awareness, strength and coordination.  And most importantly—it's fun!  Classes led by two certified kids' yoga instructors from Yogi Kids. A community league membership is required (any league).
---
Playgroup
Monday and Wednesdays mornings
Day/time:  Every Monday and Wednesday (usually closed on school holidays – check the league event calendar). From 10am to noon.
Cost: free
Requirement: Community League membership required (any league).  Memberships available on-site.
Register: Not required – just drop in when you can!
Description:
Parents/caregivers, are you looking for an activity for your young children during the week?  The Strathcona Playgroup provides a safe and happy environment for babies, children and caregivers to meet, socialize and have fun.  Please bring a snack for your child (nut free), and a coffee for yourself.  Upstairs in the main hall – come up the ramp on the north side of the building.
---
Baby Music Classes
Friday mornings (ages 6 mos-3 years)
Winter session (10 classes)
January 12 to March 23
(no class either Feb 9th or March 9th)
10:00 to 11:00am or 11.10 to 12.10
Cost: $120 for 10-week session (subject to change)
Register: To register contact: Lara at lara.debeyer@gmail.com or 587-974-1283
Description:
This is a group music class for 0-3 year olds and their caregivers, with instructor Lara DeBeyer. We'll sing, dance, listen, and play together! The class is intended to expose your little ones to the joy of music through songs, rhymes, and finger plays, to give them a basic, bodily understanding of rhythm, beat, pitch, and melody, and to build early confidence in a group setting. They'll also get experience playing some basic percussion instruments like drum, woodblock, and glockenspiel in addition to singing and creative movement. I love teaching these classes, and I hope to see you there!! Class size is capped at 8 caregiver-child pairs.
---
Tuesday Youth Hockey
Tuesdays
January, 9th – February 27th, 2018 
6:30-7:30 pm
Age 4-12 years old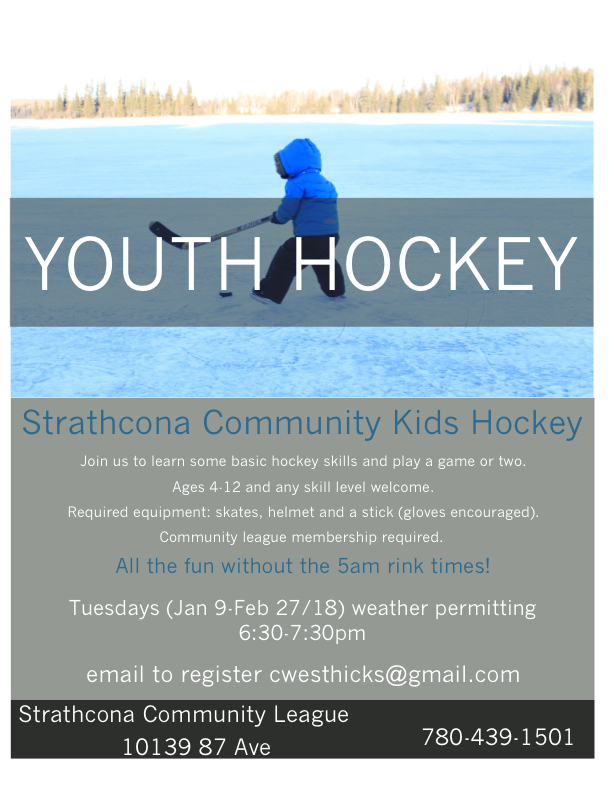 Join us to learn some basic hockey skills and play a game or two at Strathcona Community League, 10139 87 Avenue. Any skill level is welcome.
Required equipment: Skates, helmet and a stick (gloves encouraged).
Community league membership required.
To register, email Cheryl West Hicks at cwesthicks@gmail.com
---
City of Edmonton Programs for Kids
Strathcona Community League
10139 87 Avenue
Learn to Skate Program at SCCL
January 14 to February 18, 2018
Sundays, 10:00 am – 1:00 pm
Meet new friends and learn basic skating skills through fun games and activities. This is a free drop in program targeted for children (ages 6-12) and their families, however all are welcome to attend. Skates and helmets are not provided but both are required to participate. Programs will cancel at -25° Celsius with wind chill, or if the ice is closed by the facility.
---
Winter Green Shack at SCCL
February 3 to March 2, 2018
Mondays and Wednesdays, 3:30-6:00 pm
Saturdays, 1:00 – 5:00 pm
Come join us for crafts, games, winter activities, outdoor cooking, and more! This program is targeted for children aged 6-12, but all children accompanied by an adult are welcome to attend. Come prepared for winter fun, bring your winter boots, and mittens, and a flashlight. For more information, visit https://Edmonton.ca/greenshacks or call 311.