News
---
Mill Creek Neighbours – we would like to speed up the process for review of our drainage system.  Please respond by Friday, Sept 30th.
Have you had sewer and water backup in your home this summer or over the past 5 years?
We are collecting names from neighbours in order to make a case to the City of Edmonton to speed up the process for review and improvement of our drainage system. The sewer main currently combines both storm water and drainage and consequently, with heavy rains, the pipe can't handle the flows and it backs up into homes.
The City's current plan is to conduct a neighbourhood review of our drainage system in 2019 and to make upgrades, if approved in the City budget, a year or two after that.   We are asking the City to expedite these timelines.
The City indicated that collective pressure could make a difference. If you are willing to be a part of this process, we will come to your home to collect a signature on a letter to the City. We need to collect your name, address, and dates you had water issues and/or sewer backup in your home. This will help us make a stronger case.
Karen Link and Heather Blair
To participate, please contact Karen at karen@criticallink.ca
by Friday, Sept 30th.
---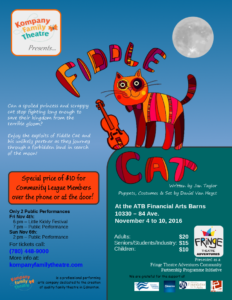 If your children get excited about live theatre, they'll love "Fiddle Cat!"
Enjoy the antics of a spoiled little princess and a scrappy cat who go on an epic adventure to save their gloomy-blue kingdom. They'll meet many intriguing characters and endure countless challenges along the way. Can these arch enemies find a way to work together for the common good? You'll have to wait and see! (Appropriate for all ages.)
This show is performed at the ATB Arts Barns on a large, professional stage with amazing set designs, life-sized puppets and wonderful costumes. A fantastic opportunity for children and their families to see a magical, full-scale production!
Tickets at the ATB Arts Barns are $20 each for adults and $10 each for children. But we've negotiated a SPECIAL RATE FOR COMMUNITY LEAGUE MEMBERS OF $10 PER TICKET FOR ALL AGES! Read more…
---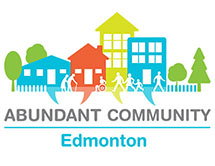 Would you like to feel more connected to your neighbours? Do you have gifts, skills, and experiences you'd be willing to share to make your neighborhood feel more vibrant, inclusive, and secure?
If so, consider becoming involved in the Strathcona version of Abundant Communities Edmonton (ACE). Howard Lawrence, who implemented the initiative three years ago in Highlands, and Pam Young, a Strathcona resident, gave an overview of ACE to the community league at its September board meeting. We are now exploring residents' interest in the program as a way of planning next steps in the implementation process.
Here are some ways to familiarize yourself with the ACE program:
Go to the City of Edmonton's ACE website and browse through the resource guide and other supporting documents.
Google "Abundant Communities" to find out how other communities in Edmonton are implementing the initiative, including Oliver and Highlands.
Contact Pam Young at pamelajoanyoung@gmail.com to express your interest. Pam will lead the preliminary stage of the program in Strathcona, bringing residents together in early October to discuss next steps.