News
---
Mill Creek Ravine has a lot going on this fall, with three meetings coming up seeking input and providing information on different projects.
Mill Creek Daylighting Stakeholder Visioning Workshop
The City of Edmonton is currently evaluating the feasibility of re-establishing a natural channel between Mill Creek north of 94 Avenue and the North Saskatchewan River through the process of "daylighting". A feasibility study is now underway to determine whether creek restoration is technically possible in the area, what the area could look like in the future, and what the potential cost of the project may be.
The City is in the very early planning stages of this project and and we are seeking your input to determine how the area is currently used and to help develop a vision for the downstream reach of Mill Creek. The City has retained the services of ISL Engineering and Land Services and Spencer Environmental Management Services to complete the technical feasibility study, which will be used by City Administration and City Council to decide whether daylighting should be pursued in Mill Creek based on potential benefits, technical requirements, and costs of restoration.
Date and Time: Tuesday, October 25, 2016 from 5-7 pm
Location: Cloverdale Community League, 9411-97 Avenue
Light refreshments will be provided.
For more information, please contact Agnieszka Kotowska by phone at 780.508.9246 or by e-mail at agnieszka.kotowska@edmonton.ca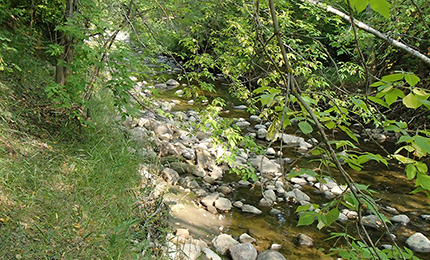 ---
Mill Creek Ravine Pedestrian Bridges Rehab
The City of Edmonton invites you to a public information meeting discussing and gathering your feedback on its plans to rehabilitate the pedestrian bridges in the Mill Creek Ravine.
Date and Time: Thursday, October 27 5-8 p.m.
Location: Hazeldean Community League Hall, 9630-66 Avenue
Those who cannot attend can check the website for more information after the meeting. Please visit: www.edmonton.ca/millcreekpedbridges
To discuss this project further, please contact: Sidd Massand, Project Engineer 780-442-1757
---
Mill Creek Water Quality Study
As part of ongoing efforts to improve stormwater quality across Edmonton, the City is working to address water quality and erosion issues in Mill Creek.
The north section of Mill Creek starts north of Argyll Road and ends at the junction of Connors and Scona Roads. The southern portion of Mill Creek was diverted into a tunnel at 75 Street when the surrounding industrial area was developed in the 1960s and 1970s. The water in the tunnel then flows into Mill Creek north of Argyll Road. To continue improving water quality in Mill Creek, the City has considered oil and grit separators, stormwater ponds, wetlands and sewer diversions along or near the north section of Mill Creek.
These options were presented at an open house on June 9, 2016. Since then, project staff have evaluated these water quality improvement and erosion reduction options. The City is considering the following improvements:
Installing oil and grit separators at strategic locations to improve water quality.
Creating a small stormwater pond or wetland feature just north of Argyll Road.
Constructing a new stormwater sewer to divert high flows.
Project staff need feedback from the public to determine the best way forward. Please join us at the upcoming public meeting and/or complete the survey at the link below:
Date and Time: Thursday, November 3, 2016 5 to 7 p.m.
Location: C3 Church, 9425 76 Avenue
Survey #2: Available November 3 -18, 2016 at http://millcreekwaterquality.mindmixer.com
For more information, visit edmonton.ca/millcreekwaterquality
---

The Strathcona Centre Community League is holding its annual general meeting (AGM) on Monday, November 14, 2016 at 8pm at the Strathcona Community Hall (10139 87 Avenue). 
The AGM is open to all neighbours and residents of Strathcona who are interested to hear about the league's projects and events of the last year, and all league members are allowed to vote on motions presented. The board will also be tabling the SCCL 2015-2016 financial statements of the league.
What: Strathcona Centre Community League AGM
When: Monday, November 14, 2016, 8pm
If you're interested in volunteering with the board of the community league, elections will be held during the AGM.
The following positions are open for election or appointment on Monday, November 14, with no declared candidates:
Communications Director (1-year appointment)
Social Director (1-year appointment)
The following positions are open for election, with at least one candidate already declared:
If you are interested in volunteering or have any questions about the AGM please contact board president Jeff Samsonow or any current board members.
---
Strathcona Centre Community League
Monday, November 14, 2015 8pm – Strathcona Community Hall, 10139 87 Avenue
1.0    Call to Order – 8pm
2.0    Adoption of Agenda
3.0    Approval of Minutes of SCCL AGM of 2015 (November 9, 2015)
4.0 League Finances
4.1 2015-2016 financial statement, Treasurer
5.0 Reports
5.1 President
5.2 Vice President
5.3    Building and Grounds
5.4 Hall Use
5.5 Membership
5.6    Programs
5.7 Social Committee
5.8    Civics/Planning
5.9 Neighbourhood Liaison
5.10 Soccer
5.11    Garden
5.12    Green Initiatives
5.13 Safety
5.14 Communications
6.0 Elections (2-year terms unless otherwise noted)
6.1 President
6.2 Secretary
6.3 Programs
6.4 Neighbourhood Liaison
6.5 Safety
6.6 Membership
6.7 Soccer
6.8 Communications (1-year appointment)
6.9 Social (1-year appointment)
7.0    New Business
8.0    Adjournment – 9:30pm
Next Annual General Meeting – Monday, November 13, 2017 at 8pm
Strathcona Community Hall, 10139 87 Avenue
---
Our apologies – the email address for the Wednesday, 7:30am Pole Walking classes was incorrect in the previous post.  It should be:  Please contact Melanie (melstrand_5@hotmail.com).
Strathcona Pole Walking Group – Free to Community League Members
Wednesdays @ 7:30 AM (Starting October 19th) – meet at the hall (south door)

Sundays @ 1:00 PM (Starting October 23rd) – meet in the parking lot outside the hall
 Stay active this fall and winter and meet some new friends!      
On Wednesday mornings starting October 19th at 7:30 AM, meet Melanie Kidder and on Sunday afternoons starting October 23rd at 1:00 PM meet Mildred Thill at the Strathcona Community League Hall for an energizing pole walk through our friendly neighborhood and the majestic Mill Creek.
All fitness levels are welcome so dust off the walking shoes and dress for the weather in layers because you will get warm once we get moving.  A good walking shoe is required.  We will be on sidewalks and river valley paths.  Bring a strap on water bottle like runners use if you like, since your hands will be full. Also, feel free to bring a few dollars for a beverage as there will likely be a coffee shop along the way. 
Walks will start off around 30-40 minutes and eventually work up to around 1 hour. Several sets of poles are available for use however they are limited so be sure to sign up or bring your own.
Please contact Melanie (melstrand_5@hotmail.com) or Mildred (780-271-5099
) if you would like to come out and give it a try!                                                     
Memberships are available through the EFCL at http://efcl.org/membership ($5 surcharge applied), or can be purchased at the walking class.  Memberships are $20/family, $15/single, $5/senior.
Check out this website for more details on Pole Walking:  http://urbanpoling.com/intro-to-urban-poling/.