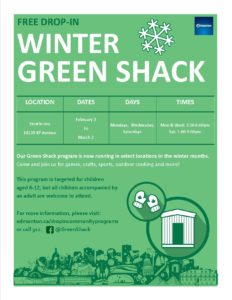 Come and join us for games, crafts, sports, outdoor cooking and more! A  program for children aged 6-12, but all children accompanied by an adult are welcome to attend.
When & Where?
Mondays, Wednesdays and Saturdays
February 3rd to March 2nd
Mon & Wed: 3:30-6:00pm Sat: 1:00-5:00pm
Strathcona Community League
For more information, please visit: edmonton.ca/dropincommunityprograms or call 311.